Great news! You've placed a well-written advert on numerous channels and candidates are applying left, right and center. So much so that you're starting to get overwhelmed by the response !
Is your business missing out on hidden talent?
Your existing process is probably tried and tested - You will likely run some searches within your Applicant Tracking System (ATS) for keywords and then look through the top of that filter (according to a study carried out by the Ladders it takes on average 6 seconds for a recruiter to review a CV),
So even if you wanted to review all 200 applicants it should only take you around 20 minutes - no big deal right ? Wrong… what about those candidates who may not have written the right keywords (or repeated them numerous times)? Can anyone really judge someone's ability to perform a job based on a 6-second power scan of a CV ? What about those candidates who you've discounted based on unconscious bias ?
The simplest way to ensure that you aren't missing out on talent is to let candidates qualify themselves for the job. Give candidates an opportunity to showcase their skills, experience and desire to join your business. Sounds hard work right ? who has the time or the budget to assess 200+ candidates for a single job?
Wrong again… there are a small number of solutions providers who are making this possible (we are one of them but apparently it's not good etiquette to promote your business in a blog so I'll stop now!)
It is possible to have your applicants go through a series of engaging and practical assessments (all online) and with a well thought out process, candidates will eliminate themselves from a process leaving only the best-suited ones in the process. Not only will the cream rise to the top but candidates are left feeling that they have been given a fair chance to apply and haven't simply been disregarded due to their CV. It will improve your employer branding and, if devised correctly, you may even be able to turn your candidates into customers (now there's a thought right? Imagine the delight of your CEO/CFO if you can turn a cost center into a profit center!!)
Imagine receiving a shortlist that contains data, analytics, scoring and even a video interview. Share those with your hiring managers and allow them to SEE & WATCH how people perform in work samples similar to those required for the job they've applied to before anyone's time is taken in conducting face to face interviews.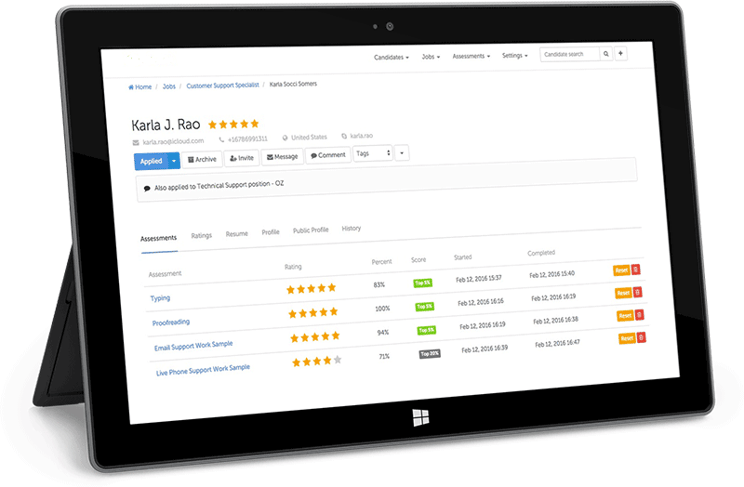 Imagine being able to spend your days being strategic - perhaps working with your business to build talent pools, identifying and planning for succession or working on your employer branding. You shouldn't be spending your days wading through CV's and sending out automated rejection emails - you're employed as a Talent Acquisition expert, not an administrator (and for those HRD's & other Directors reading this your team will love you for taking this laborious task away!).
Are we saying there is no place for the CV? Well, not yet but perhaps this is the start of the end of the CV?