We are delighted to welcome Ken Okolo to the business. Ken is based in Lagos Nigeria and will be spearheading our West African business.
We asked Ken to write a words on his decision to join us: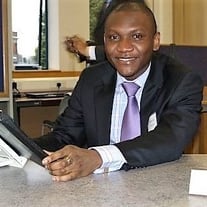 "I am thrilled to be joining the TalentintheCloud team who are doing some amazing work revolutionizing recruitment in Africa.
In my career within recruitment technology and services, I have had the privilege of being involved in high level recruitment campaigns across Sub Saharan Africa as well as consulting with a number of blue chip companies on appropriate technology to use to scale and automate their recruitment processes. I pioneered the sale of LinkedIn Corporate recruitment tools in Nigeria and worked closely with the LinkedIn Talent Solutions EMEA team to deploy these solutions to a number of top brands in Nigeria and Kenya. I have also worked closely with Graylink Solutions in South Africa to implement its Enterprise Applicant Tracking Systems to a number of clients here in Nigeria.
My work with clients in Africa has consistently emphasized to me the need to be flexible and adaptable to the needs of particular businesses, providing them the most appropriate solution and services that will enable them to find quality talent effectively whilst reducing the time to hire and the overall cost of talent acquisition.
Here-in lies my attraction to TalentintheCloud. Its modular service approach, advising and providing for clients just the technology and services that it requires to scale and compete in the global war for talent is just what the continent needs. With an exceptional team of highly qualified recruiting professionals boasting a combined 70 years' experience in the staffing business, there was really no doubt in my mind in choosing to work with TalentintheCloud.
My focus at this time will be to grown TalentintheCloud's operations in West Africa. The region is the fastest growing region across the continent. Nigeria remains an economic powerhouse. According to the IMF rankings last year Nigeria is Africa's biggest economy with an estimated GDP of $594.257Billion ahead of South Africa and Egypt. Challenging though is the high unemployment rates and the attendant high volumes of job applicants which has posed a real problem for business in the quest for talent.
This truly is an exciting time for TalentintheCloud to revolutionize the region to enable it to continue to remain relevant within the continent and globally. "